Giant claw marks on Mars dunes? Blocks of dry ice to blame, study says.
Experiments with dry ice in Utah supported the theory that the narrow gullies spotted on some Martian dunes were caused by the annual spring thaw of chunks of frozen carbon dioxide.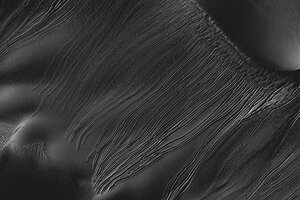 NASA/JPL-Caltech/Univ. of Arizona
For years, scientists have puzzled over the source of narrow, dead-end gullies that run like claw marks down the slopes of some Martian dunes.
The perpetrator? No oversized cosmic tabbies here. Instead, these tracks appear to be etchings left by chunks of frozen carbon dioxide – dry ice – on their annual death slides as the southern hemisphere's winter gives way to spring, according to a new study.
The tracks appear in high-resolution images taken by NASA's Mars Reconnaissance Orbiter (MRO) as it passed over dunes located at the planet's high southern latitudes.
The narrow gullies start at or near the tops of the dunes. Some merge with other, larger channels on the way down the slope. But all end abruptly.
Some researchers have suggested they were formed by water, perhaps coming from near-surface ice that became exposed and with the warming of spring melted and briefly flowed downhill. But none of the narrow gullies display the extended fans of material at the bottom typical of debris flows seen elsewhere. Such flows can be triggered by the flash thawing of water ice near the surface, which then travels down slope. Or they can occur through dry processes akin to mini-avalanches.
In short, "these look more like something that is carved out of the surface" instead of features related to flowing water, says Serina Diniega, a researcher at NASA's Jet Propulsion Laboratory in Pasadena, Calif., and the lead author of a formal report on the findings set to appear in the July issue of the journal Icarus.
Indeed, co-author Chris Hugenholtz, a geologist at the University of Lethbridge in Alberta, Canada, buttonholed Dr. Diniege at a science conference where she had presented this interpretation of the gullies and noted he'd seen similar features etched into hillsides by rolling boulders. But in these locations, Mars had none of those.
---