First woman in space: Miserable cosmonaut or triumphant space flyer?
Valentina Tereshkova, the first woman in space, flew 50 years ago today. After her problem-plagued flight, it took almost two decades for another woman to go into space.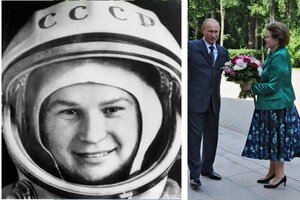 ITAR-TASS / AP / File and Mikhail Klimentyev / Presidential Press Service / RIA-Novosti / AP
How would you handle getting lost in outer space?
Valentina Tereshkova, who flew into space 50 years ago today, was confronted with this terrifying possibility on the first day of her problem-plagued spaceflight.
The first woman in space, Ms. Tereshkova was seen by many as a triumph for the Soviet space program, but is remembered by some colleagues as a token female who botched her flight.
"She didn't want to go," Soviet space scientists told me during my own years as a NASA-funded researcher. "She was so hysterical that she threw up in space," they said. "At the last minute, she panicked, and they had to strap her into her seat against her will."
While her nausea was documented – she did indeed vomit in space, and spent most of her three-day trip sitting as still as possible – space nausea is a common enough problem that NASA has designed a high-tech solution, while "hysteria" is a dismissive label applied almost exclusively to women.
She actually solved the first big problem in her flight: On the first day, the ship's autopilot mistakenly steered her away from Earth, leaving her facing the prospect of being lost in space.
"It was programmed to raise the orbit," she told reporters. "I put the new data in and it worked fine."
---