Unusual new planet casts doubt on how planets form
A distant, baby planet is challenging the reigning theory about how planets are made.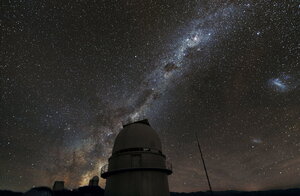 Zdenek Bardon/ProjectSoft, European Southern Observatory/AP
Scientists are at 900 and counting.
Astronomers added one more planet to a roster of about 900 known planets outside our solar system, in a surprising find that could challenge the reigning theory about how planets are made.
The newly discovered planet is orbiting TW Hydrae, a small, young, dwarf star some 176 light-years afield from Earth, at a distance of about 7.5 billion miles from the the star – roughly twice as far as Pluto's orbit around our sun.
TW Hydrae's youth – it's only 8 million years old – makes it an unlikely candidate to host a planet, scientists say. In that short space of time, a planet should not have had time to form – especially around such a small star, with a mass about half that of our sun and not enough material twirling around it for a new planet to sap up and affix to itself.
"It's so intriguing to see a system like this," said John Debes, of the Space Telescope Science Institute in Baltimore, Maryland, and the head of the research team that identified the gap, in a statement. "This is the lowest-mass star for which we've observed a gap so far out."
---