Space telescope funded by public donations meets $1 million goal
Public donors giving between $10 and $10,000 each have hit a $1 million crowdfunding goal for ARKYD, the pint-size space telescope that can be used by schools and enthusiasts alike.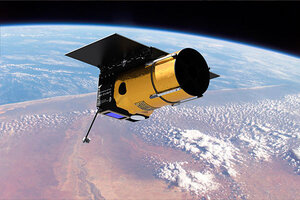 Planetary Resources/Reuters
Space telescopes are not just for pros anymore.
The first space observatory paid for in part by public donations has hit its initial $1 million fundraising goal, putting the project on track for launch in 2015.
The telescope, dubbed ARKYD, is a munchkin compared with the venerable Hubble Space Telescope or its successor, the James Web Space Telescope. ARKYD's light-gathering mirror is only about 8 inches across, compared with Hubble's 13-foot mirror or the 21-foot mirror of the James Webb telescope, slated for launch in October 2018.
But ARKYD holds the potential to offer something these others don't – time on an orbiting observatory for anyone from an elementary-school student to professional scientists whose research goals range from studying asteroids to hunting for planets outside our solar system.
The project is the first step toward Planetary Resources, Inc.'s ultimate aim of mining asteroids. The company intends to incorporate such an instrument into spacecraft that initially would rendezvous with an asteroid passing relatively close to Earth and later reach asteroids farther away.
To that end, Planetary Resources developed ARKYD and its needed support infrastructure, such as a ground station, with money from private investors. But the company was founded by X-Prize Foundation founder and chairman Peter Diamandis and Eric Anderson, both of whom champion broader public engagement in science. Hence the crowdfunding and the benefits that come with donating.
The $1 million mark ensures that a bare-bones telescope will get launched and maintained. And it ensures that the company will be able to deliver what they promised to donors. For instance:
A $10 donation "gets you our eternal gratitude" and "a say in how the telescope is used," according to the company's fundraising page on the website Kickstarter.
Up that to $25, and you get a "selfie" – you supply a picture of yourself, they send it to the observatory, and an onboard camera takes a picture of your picture displayed on a small video screen on the telescope's exterior, giving you Earth or space as a backdrop.
For $450, you get to pick three targets for the telescope and receive the images that result.
Pony up $5,000, and the school or museum of your choice gets 25 targets, in addition to teaching tools that will help incorporate the observations into its science curriculum.
For $10,000 (24 people have contributed at this level so far), it's the school support plus extras, including tickets to the launch, among other items.
---