Whale of a win: Environmental victory protects whales from noise pollution
Michael Jasny, director of the NRDC Marine Mammal Project, contributed this article to LiveScience's Expert Voices: Op-Ed & Insights.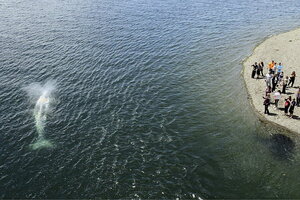 Alan Berner / The Seattle Times / AP
Here's a recipe for an environmental train wreck: Take one of the world's most powerful industries, allow it to conduct harmful activities for years without obtaining the basic authorizations required by law, and produce a wealth of science making it plain that those harmful activities are putting endangered and vulnerable species at risk.
Today (June 20, 2013), a number of conservation groups, including my own, announced a landmark agreement that may prevent one such train wreck — this one in the already scarred Gulf of Mexico.
The underlying problem is airguns. To search for deep deposits of oil, companies troll the ocean with high-volume airguns that, for weeks or months on end, regularly pound the water with sound louder than virtually any other man-made source, save explosives. We now know that these surveys can have a vast environmental footprint, disrupting feeding, breeding and communication for whales and other species over literally thousands of square miles.
It's the sort of activity that ordinarily requires approval under the Marine Mammal Protection Act, Endangered Species Act, and other federal laws. And yet the government has allowed it to proceed without authorization in the Gulf of Mexico, a body of water that may well be the most heavily prospected on the planet.
Industry runs dozens of exploration surveys each year in the northern Gulf, and many of them make use of large airgun arrays. For more than a decade now, the problem has languished, even as the threat posed by airgun exploration has loomed larger and larger.
Our alliance of conservation groups sued over the government's failure. In the end, we reached agreement with both federal officials and industry representatives that will help protect marine mammals while a comprehensive environmental review is underway.
---