Kardashian baby name: the science of how names shape us
Kardashian baby name: some studies have linked unusual names to numerous disadvantages later in life. As for the Kardashian baby name, it remains to be seen.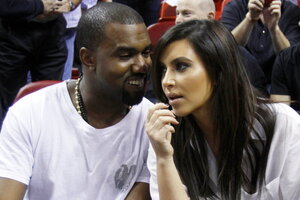 Alan Diaz/AP
Kim Kardashian, for reasons that are not yet clear, has named her baby North West.
It's an odd choice that's unlikely to much affect Kanye West's and Kardashian's little girl – but, for a child born to non-famous parents, is a name that might critically shape who she grows up to be. Without the gilded Kardashian name to guarantee her success, that non-celebrity girl might struggle to fend off bullies, get hired, and overall surmount other people's – and eventually her own – low expectations for her future.
Studies have increasingly shown that names are a highly relevant factor is how others perceive us and we perceive ourselves. In 2010, David Figlio of Northwestern University in Illinois analyzed names from millions of birth certificates for the probability that the name belonged to someone of low socioeconomic status – children whose names met those criteria would go to be discriminated against throughout life, he found. Similarly, a 2003 study from The National Bureau of Economic Research found that resumes with White-sounding names receive 50 percent more callbacks for interviews than resumes with African-American-sounding names.
---