Lost Maya city found in Mexican jungle
Scientists have discovered what was once likely a prominent city in the booming Mayan empire.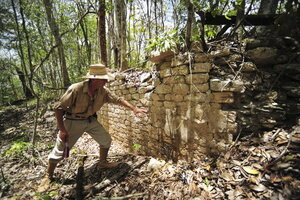 INAH/Reuters
This is a week for found lost worlds.
Just weeks after a similar find was made in Cambodia, archaeologists have uncovered an ancient Maya city that had been hidden for hundreds of years in the Yucatan's jungle-covered Campeche province, a find that researchers said could tell us more about how the advanced, still mysterious empire presided over its vast lands at its height.
The abandoned city, called Chactun, is one of the largest ever found in Mexico's Yucatan peninsula, teeming with some 30,000 or 40,000 people during the late Classic period of Maya civilization between 600 and 900 AD, after which year the civilization spun into decline. That would have made it somewhat smaller than Tikal, the fabled Mayan city once home to some 90,000 in what is now Guatemala, Reuters reported.
"It is one of the largest sites in the Central Lowlands, comparable in its extent and the magnitude of its buildings with Becan, Nadzcaan and El Palmar in Campeche," said archaeologist Ivan Sprajc in a statement from Mexico's National Institute of Anthropology and History, translated from Spanish by LiveScience.
---