The ultimate video game: Teams compete in DARPA Robotics Challenge
Teams from eight countries competed in the first round of the challenge to develop a disaster-response robot.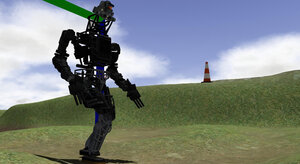 DARPA/Jet Propulsion Laboratory
This is the ultimate video game.
Except in this game, turning on a garden hose is an enormously difficult task, requiring huge teams of scientists and decades of acquired technology.
About 26 teams from eight countries competed June 17-21 in the Virtual Robotics Challenge, the first round of the DARPA Robotics Challenge, using complex software to direct virtual robots in a cloud-based simulator that looks like a 3-D video game.
The overall challenge for the teams is to develop software that can operate a humanoid robot supplied by DARPA (Defense Advanced Research Projects Agency) across a low-bandwidth network, which is expected to be the only type of network available to first responders in a disaster scenario.
This first round was a software competition in which teams used software of their own design to have a simulated ATLAS robot navigate a simulated disaster zone that looked something like suburbia gone wrong. For three days, competitors stared into computer screens in their respective far-flung labs and offices, instructing their virtual robots to complete a series of challenges, including driving a vehicle and walking over uneven ground. Robots also had to pick up a hose, connect it to a spigot, and turn it on.
"The disaster-response scenario is technically very challenging," said Russ Tedrake, a professor in the electrical engineering and computer science department at the Massachusetts Institute of Technology (MIT). "It requires the robot and human operator to simultaneously perceive and gain an understanding for a complex, new environment, and then use that information to perform difficult manipulation tasks and traverse complex terrains."
---