200-year-old rockfish caught off Alaska coast
200-year-old rockfish: A Seattle resident caught a shortraker rockfish, which at some two centuries old might be the oldest one ever caught.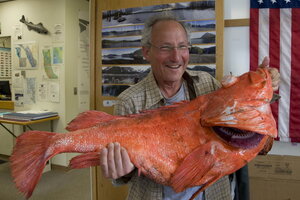 James Poulson/Daily Sitka Sentinel/AP
Long before Alaska was a state, a fish was born there. And for 200 years that fish lived off Alaska's coast, oblivious to the centuries of national and personal dramas that played out nearby. Until now.
A Seattle resident has caught a 39-pound, 41-inch-long shortracker rockfish that is estimated to be some two centuries old. If the age is correct, then it will be the oldest shortracker ever caught, as well as one of the oldest fish ever caught, the Daily Sitka Sentinel reported. The fisherman, Henry Liebman, has now passed the fish to the Alaska Department of Fish and Game for age verification, the Sentinel said.
The Rockfish – which looks like a goldfish that has magically enlarged and burst from its bowl – are common off Alaska, as well as near the coasts of eastern Russia and northern California. The shimmering, neon orange, and somewhat bloated looking fish is generally found either alone or in small groups at a depth of between about 990 ft. to 1,650 ft., with old fish deeper than their younger counterparts, preying on small crustaceans that live on underwater boulder fields.
The Shortraker rockfish are thought to average in lifespan about 120 years and to be the second-longest-living of all the varieties of rockfish, with the Rougheye species topping the lifespan list at some 140 years. That means rockfish are some of the world's oldest living fish, matched only by equally long-lived fish like the sturgeon, an ancient fish found in North America that can live to be more than a century old.
---