Mars 2020: NASA's going bold – on a budget
Mars 2020: NASA's next rover will search for signs of ancient life on Mars and stockpile the evidence for an eventual return to Earth. To save money, NASA will borrow hardware and designs from the successful Mars Curiosity rover.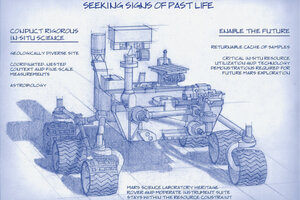 JPL-Caltech/NASA
For many, the pinnacle of Mars research would be sending human scientists to explore the surface, gather specimens, and study them with high-tech instruments, either there or back here on Earth.
That's what we did with the Apollo missions, and it transformed our understanding of the moon's surface. NASA's vision for Mars, announced Tuesday at a press conference at NASA's headquarters in D.C., isn't quite that grand, but it's surprisingly close – and they're doing it on a budget.
"One of the very biggest questions for all of humankind is, Are we alone?" asks Lindy Elkins-Tanton, a planetary scientist on the Mars 2020 science team. "And that is the question we are hoping to make really big advances with in this Mars 2020 mission."
Here's the good news for Red Planet enthusiasts: In 2020, NASA will send a near-clone of Curiosity, the wildly successful robot currently exploring Mars, to some really juicy terrain where life may once have flourished.
The even better news, if you're rooting to send people there: The mission will test out equipment that humans will need on Mars, a concrete step toward President Obama's stated goal of having humans on Mars by the mid-2030s.
While exploring, the Mars 2020 rover will stockpile the most interesting specimens it finds and keep them on ice for a future sample-return mission.
"Those samples are going to have an enormous impact on our understanding of planetary science," says Jack Mustard, the leader of the rover's science definition team.
NASA won't say exactly when or how those samples will be transported to Earth, prompting speculation that the rocks will wait for those human geologists. It's possible that they'll be flown back by a future unmanned mission, although the US has never accomplished a robotic sample-return mission. Soviet scientists did it three times in the 1970s, bringing moon rocks and dust back to Moscow in 1970, 1972, and 1976.
---