Woolly mammoth goes on view in Japan
Woolly mammoth: A rare woolly mammoth with remarkably preserved soft tissue, orange fur, and signs of human butchering is now on view in Japan.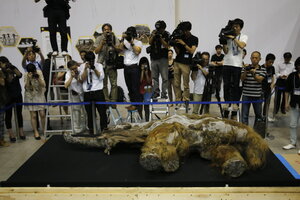 Toru Hanai/Reuters
An ancient baby mammoth – so well preserved that tuffs of orange-brown hair still dot its body – has gone on display in Yokohama, Japan.
While fossilized mammoth teeth, bones, and tusks are relatively common, mammoths with hair and soft tissue are highly unusual finds. This mammoth, a two-year-old called Yuka that died some 39,000 years ago, is swathed in light orange, almost blonde hair, as well as lingering soft tissue.
The mammoth, recovered from Siberia's ice about three years ago, is also notable for what it might teach us about human life those many thousands of years ago. Cuts found on the animal's body suggest that humans took the carcass from the lion that likely originally killed it. That makes it one of few carcasses found to show human contact and could offer up clues as to how ancient humans hunted.
"It's exceptionally rare to find intact mammoths," Kevin Campbell, an associate professor of environmental and evolutionary physiology at the University of Manitoba, told the Monitor. "And to find a mammoth that has been conclusively found to have been butchered by humans makes this find exceedingly unusual."
---