Alien planet's mysterious blue color leaves scientists wondering
The Hubble Space Telescope helped scientists to identify the blue color of an exoplanet, giving researchers another piece in their understanding of the distant world. The alien planet has fierce winds and high temperatures, which turn rain into glass.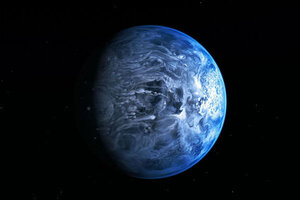 NASA, ESA, M. Kornmesser
Call it the deep blue dot. For the first time, scientists have seen the visible color of a distant alien world. The exoplanet — called HD 189733b — is 63 light-years from Earth and a "deep cobalt blue," with raging storms of glass rain and super-fast winds, scientists say.
The alien planet's blue color was pinned down using observations from the Hubble Space Telescope. Although the planet might be the same color as Earth from space, scientists think that HD 189733b is a "hot Jupiter" — a gas giant planet that orbits very close to its star. It takes 2.2 Earth days for the planet to travel fully around its sun.
"This planet has been studied well in the past, both by ourselves and other teams," said Frédéric Pont of the University of Exeter, U.K., leader of the Hubble observing program in a statement. "But measuring its color is a real first — we can actually imagine what this planet would look like if we were able to look at it directly." [See More Images of the Blue Alien Planet HD 189733b]
---