NASA's IBEX maps solar system's tail for the first time
NASA has provided the first ever map of our solar system's tail, called the heliotail.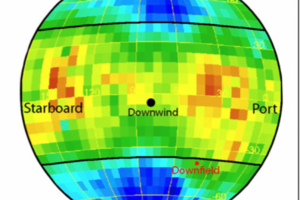 NASA/IBEX
NASA's Interstellar Boundary Explorer, or IBEX, has for the first time mapped the tail – or, tails – that stream out behind our solar system as it moves through the galaxy.
Researchers have for years theorized that our solar system should have a tail, just as a comet hurdling through Earth's atmosphere would have particles streaming out behind it. Telescopes have also spotted tails protruding from other stars, some of them several light-years in length. But this is the first data to confirm the assumption about our own sun, offering a broad portrait of our solar system.
"For the first time ever, humanity has an image of this protective bubble that surrounds the solar system," said David McComas, lead author on the paper and principal investigator for IBEX at Southwest Research Institute, in a phone interview. "Ibex has allowed us to fill in the hole in that image and measure one of the heliosphere's biggest features, the heliotail."
The heliosphere is a magnetic region extending about 8 billion miles from the sun to the heliopause, the outermost boundary of our solar system. It is inflated with what is known as the solar wind: fast and charged particles blowing out at millions of miles per hour from the sun in all directions, carrying with them the sun's magnetic field. Those particles then collide with neutral atoms entering the solar system from elsewhere in the galaxy and in that collision exchange an electron. That creates a fast neutral atom and a slow-moving particle.
---