Iceberg: Antarctica loses Chicago-sized chunk of ice
Iceberg: Antarctica is somewhat smaller this week, as the frozen continent's Pine Island Glacier calved off a massive iceberg on Monday.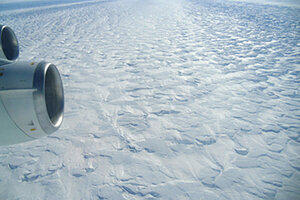 Angelika Humbert/Alfred-Wegener-Institut
A massive iceberg, larger than the city of Chicago, broke off of Antarctica's Pine Island Glacier on Monday (July 8), and is now floating freely in the Amundsen Sea, according to a team of German scientists.
The newborn iceberg measures about 278 square miles (720 square kilometers), and was seen by TerraSAR-X, an earth-observing satellite operated by the German Space Agency (DLR). Scientists with NASA's Operation IceBridgefirst discovered a giant crack in the Pine Island Glacier in October 2011, as they were flying over and surveying the sprawling ice sheet.
At that time, the fissure spanned about 15 miles (24 km) in length and 164 feet (50 meters) in width, according to researchers at the Alfred Wegener Institute for Polar and Marine Research in Bremerhaven, Germany. In May 2012, satellite images revealed a second rift had formed near the northern side of the first crack.
"As a result of these cracks, one giant iceberg broke away from the glacier tongue," Angelika Humbert, a glaciologist at the Alfred Wegener Institute, said in a statement. [Photo Gallery: Antarctica's Pine Island Glacier Cracks]
Humbert and her colleagues studied high resolution radar images taken by the TerraSAR-X satellite to track the changes in the two cracks, and to observe the processes behind glacier movements.
---