T. rex could be the 'tyrant lizard' after all
A T. rex tooth found lodged in an herbivore thought to have been alive when it was attacked provides new evidence that the T. rex was a predator, not just a scavenger.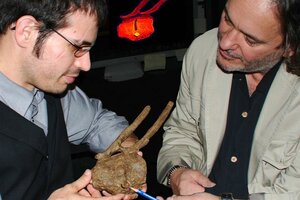 Fallon E. Cohen
A T. rex tooth discovered in the tail of an herbivore that apparently survived the attack has added new evidence to a century-old debate among paleontologists about whether or not the dinosaur was a scavenger or a predator.
The latest clue in the mystery is a single T. rex tooth, found embedded in the tailbone of a hadrosaur. The duck-billed dinosaur's bone seems to have healed over the bite wound, suggesting that it was alive at the time of the assault, and that it survived.
"The discovery of the tooth surrounded by healed bone is ironclad, direct evidence that this T. rex attacked a living animal, and supports the notion that T. rex engaged in predation," said Robert DePalma, a paleontologist at the Palm Beach Museum of Natural History in Florida and a co-author on the study, in an email interview.
"All of the evidence thus far proposed has been indirect and circumstantial," he wrote. "There never has been an actual bullet for the smoking gun."
The dino-drama unfolded about 66 million years ago, in what is now South Dakota, when the American northwest was swathed in green and riddled with streams and rivers. The precise narrative is impossible to reconstruct, but it appears that the T. rex bit into the herbivore's tailbones and was subsequently fended off. One of the aggressor's teeth, a 1.5-inch crown, was sacrificed in the effort, wedged in the fortunate dinosaur as a token of survival.
The findings, published in Proceedings of the National Academy of Sciences, does not suggest that the T. rex never scavenged for food, but that it was also capable of hunting its meal, the authors say.
"Any 11-year-old knows that a T. rex ate anything it wanted," said David Burnham, a University of Kansas paleontologist and a co-author on the study, in a phone interview. Dr. Burnham noted that most predators will scavenge when convenient.
---