Glowing robots: New skin lights up when touched
Scientists have created an interface much like a smartphone touchscreen, but pliable.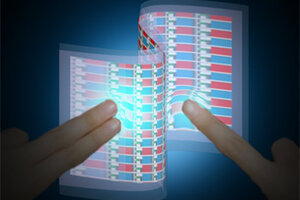 Ali Javey and Chuan Wang
Touch a future robot, and it might glow.
Researchers at the University of California at Berkeley have developed the first user-interactive sensor network on flexible plastic. That differs from the touchscreens on smartphones in that this material is thin and pliant, able to be wrapped around and adhered to a variety of objects.
And the material also differs from skin in that it, well, lights up. The so-called electronic skin, or e-skin, responds to touch with light: more intense pressure yields brighter light.
"We have made the "skin" interactive," said Ali Javey, associate professor of electrical engineering and computer sciences at UC Berkeley and the leader of the research team on the e-skin project. "Where the surface is touched, it lights up with the brightness quantifying the magnitude of pressure."
To make the e-skin, described in Nature Materials, engineers first hardened a thin layer of polymer on top of a slice of silicon, a semiconductor material. Once the polymer had toughened, the engineers ran it through with the same materials used in current touchscreens – organic light-emitting diodes (OLEDS), pressure sensors, and transistors. They then peeled the wired-up plastic from the silicon base. That left a plastic film thinner than a standard sheet of paper and embedded with a sensor network.
The project, which receives funding from Defense Advanced Research Projects Agency (DARPA), joins surging investment in developing robotic skin, keeping pace with mounting developments in robotics that have given those metal robots ever more useful, albeit skinless, hands and feet.
Most robotic skin projects have been modeled on human skin. Our sense of touch is received from our somatosensory system, wherein four different kinds of receptors in our skin feed information to our neurons and then to the brain. And so robotic skin would consist of sensors that communicate to the robot how much force to use in handling various objects.
---