Portrait of Earth from Saturn a reminder of just how amazing we are
NASA has released a picture of Earth taken by the Cassini spacecraft, which is currently orbiting Saturn. Guess what? We're a tiny blue dot engulfed in the vastness of space. Pretty cool.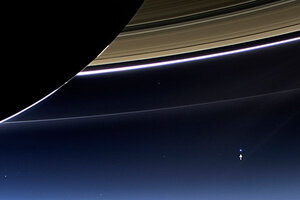 Space Science Institute/JPL-Caltech/NASA/AP
In about the time it once took to get Pocket Instamatic photos back from the drug store, NASA has processed and unveiled the latest portrait of Earth, taken by the Cassini orbiter currently touring Saturn and its moons.
Taken Friday and released Monday, the image is the second snapshot of the third rock from the sun Cassini has captured. The first appearance was serendipity, with Earth lurking in the background in a stunning backlit portrait of Saturn that Cassini took in 2006.
Taken from from a distance of 1.3 million miles, that image shows Saturn as a huge, darkened disk bordered by a thin ring of sunlit atmosphere and centered within its array of diaphanous, glowing rings.
This time, a similar attempt to image Saturn as it eclipsed the sun from Cassini's vantage point was designed from the get-go to capture Earth. Humans received a month's advanced notice to allow them (if they were in the mood and in the right hemisphere) to put on their "stepping out on a Friday night" clothes and get into the picture.
Last Friday's planetary photo op was three years in the making, according to Carolyn Porco, who leads Cassini's imaging team and cut her planetary-science teeth as a member of the imaging team for the Voyager missions to the outer solar system and beyond.
When the plan for the portrait went public a month ago, she noted in a statement that "my sincere wish is that people the world over stop what they are doing at the time the Earth picture is taken to revel in the sheer wonder of simply being alive on a pale blue dot of a planet" and appreciate the unique perspective such images provide on humanity's place in the solar system as well as its penchant for exploration.
NASA estimates that at least 20,000 people smiled for Cassini's imager, despite the anonymity they would continue to enjoy once the image was released. Earth is a tiny, if brilliant, speck in the distance, with the moon also in view.
---