Arctic ice melt could cost an extra $60 trillion, say researchers
Methane gas released from the melting Arctic ice could accelerate global warming and tack on an extra $60 trillion to the cost the world is expected to incur from climate change.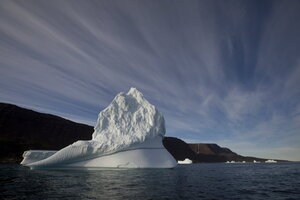 Brennan Linsley/AP
The oil and gas industries have in recent years forecasted profits from easier access to resource fields in the melting Arctic. Northern states have welcomed the trade routes that are emerging from the thick ice's melt. But those possible boons pale in comparison to the costs that methane emissions from the melting ice will have on the global economy, scientists have found.
The price tag? $60 trillion – or about the size of the entire global economy in 2012 – according to new research that modeled the economic toll that methane gases seeping out of the Arctic will take on the world.
"It's not just bad news for the polar bear," said Gail Whiteman, a researcher at Erasmus University in the Netherlands and a coauthor on the paper, published in Nature. "It's a global economic time bomb."
The Arctic is thought to contain about 30 percent of the world's undiscovered gas, as well as about 13 percent of its untapped oil. Those economic opportunities have provided major incentives for investment in Arctic oil and gas fields. Lloyd's of London, an insurance market, has projected that investment in the region could reach $100 billion within 10 years.
At the same time, thawing ice has also cleared a route for vessels there during the summer. Arctic shipping is expected to see about 40 million tons a year in 2050.
But those projected figures do not present a full picture of the economic effects of melting in the Arctic, the authors said.
---