Global warming could spell more bad news for baby seals
New research shows that male baby harp seals are particularly vulnerable to strandings that sweep them from the Arctic down to the US East Coast.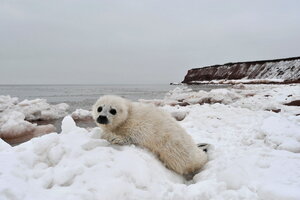 Stewart Coo/IFAW/Reuters
Researchers have delivered more bad news for the harp seal – this time for male babies.
Harp seals, with their wide, amused-looking black eyes and earless, white faces, are often poster children for the toll that climate change is taking on the world. As the Arctic ice melts, the little animals are pushed off their ice breeding grounds, often becoming stranded and turning up along dead or injured the American East Coast. Now, new research shows that infant male harp seals are particularly vulnerable to those strandings.
"Changes in percent ice cover are impacting the number of strandings we are seeing," said Brianne Soulen, a biologist at the University of North Texas and co-author on the paper, published in PLOS ONE. "The inclusion of sex information allowed us to discover that males are stranding more than females."
Harp seals breed in two regions, the northwestern Atlantic near eastern Canada, and the northwestern Atlantic near the tip of far western Russia. Pups are born on ice from late February until March and are then weaned within two weeks of birth. For the following four-week period, the babies live on the ice off their fat stores. It's only after this vulnerable ice-bound period that the seals, newly puffed with their soft white coats, are prepared to hunt on their own and migrate to summer mating grounds.
---