Earthquakes: Another source of global-warming gas, scientists say (+video)
A team of scientists has linked a major earthquake in southwest Asia in 1945 to the ongoing release of methane gas from the Arabian seafloor.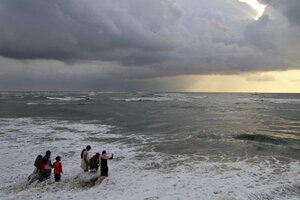 Sivaram V/Reuters
A devastating earthquake in 1945 sent millions of cubic feet of methane bubbling up to the earth's surface, scientists have found, in new research that could add another source of the greenhouse gas to future climate models.
The latest research joins burgeoning scientific interest in the potential contribution of methane, a greenhouse gas that is significantly more effective as a heat trapper than carbon dioxide, to global warming. Last week, a separate article in Nature called the methane gas below the Arctic "a global economic time-bomb," referring to the potential costs to the world should global warming thin the Arctic ice enough to release the gas there.
This latest paper, though, identifies not a manmade source of atmospheric methane, but a natural one: earthquakes.
"It had earlier been speculated that there was a direct connection between earthquakes and methane seepage," says David Fischer, a postdoctoral researcher at the University of Bremen in Germany and the lead author on the paper, published in Nature Geoscience. "But we are the first to prove it and suggest the mechanistic natural process behind it."
---