Camping resets your internal clock, say researchers
Getting away from artificial light can recalibrate your sleep cycles so that they are more similar to those of our ancestors, researchers suggest.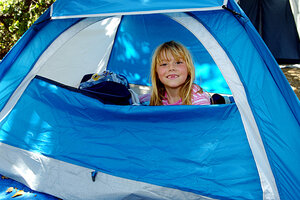 Robert Harbison/The Christian Science Monitor/File
Throughout most of human history, humans went to bed shortly after the sun went down and woke up in the morning as it rose. There were candles and later oil lamps, but the light was not very bright so people still went to bed early.
Then came Thomas Edison and the incandescent light bulb and everything changed, including our sleeping habits. So, if you have problems getting to sleep at night or are a miserable person to be around in the morning, blame him.
Scientists at the University of Colorado Boulder found that if you live by the sun's schedule, you are more likely to go to bed at least an hour earlier, wake up an hour earlier, and be less groggy, because your internal clock and external reality are more in sync. The sun adjusts your clock to what may be its natural state, undoing the influence of light bulbs.
The work is published in the current issue of the journal Current Biology.
The disconnect between the outside environment and sleep is one reason why even native Alaskans have problems sleeping in the almost endless days of the Arctic summers, and get depressed during the long nights of winters.
The subjects in the Colorado study lived more normal lives.
"We weren't studying people who had sleep difficulties," said Kenneth Wright, an integrative psychologist at Boulder. "The amount of sleep they got did not change. What changed was the timing of their sleep and the timing of their [internal] clock relative to when they slept."
---