Ice ages: Why North America is key to their coming and going
Scientists have long tried to figure out what causes the ebb and flow of ice ages. New data suggests a novel explanation for why the mile-thick blankets of ice retreat so quickly: They become too heavy.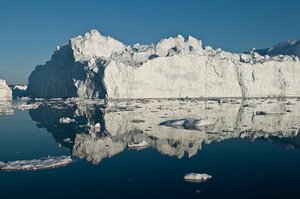 Ian Joughin/AP
For the last 900,000 years, mile-thick ice sheets have waxed and waned in the Northern Hemisphere with remarkable regularity – building over periods of about 100,000 years and retreating in the space of only a few thousand years, only to repeat the cycle.
Now, a team of scientists from Japan, the US, and Switzerland suggests that the North American continent is the breeding ground for these cycles. It's a region where climate and the ice's effect on the Earth's crust play off each other to draw out the length of a glacial cycle triggered by changes in solar radiation that come with changes in Earth's orbit.
This feedback between climate and ice becomes most dramatic at the end of the cycle, when an ice sheet that has bulldozed its way too far south and gotten too heavy for its own good meets up with a warming climate.
"When the ice sheets get to this huge state, they are very hard to keep that way," says Maureen Raymo, a paleoclimatologist at Columbia University's Lamont-Doherty Geophysical Observatory in Palisades, N.Y., and a member of the team conducting the study.
Once a change in Earth's orbital characteristics brings on the next warming event, "the whole system just goes into catastrophic collapse," she explains. "It melts back a little, seas start to flow into the depressed crust, this floats the ice and melts it from below."
---