Elon Musk unveils Hyperloop plan. How would it work?
Elon Musk, already the force behind SpaceX and Tesla, has sketched out a commuting system between L.A. and San Francisco that would reach speeds of 760 m.p.h. Here are the basics behind the Hyperloop.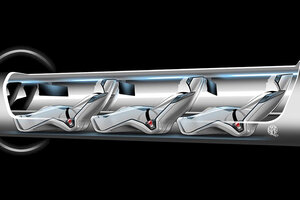 Tesla Motors/AP
A trip from Los Angeles to San Francisco in 35 minutes for $20 one way? That's the latest vision from Internet, aerospace, and automotive entrepreneur Elon Musk, who on Monday unveiled his Hyperloop concept for the 350-mile commute.
What's a Hyperloop? Think of a physicist's linear accelerator, but for passenger pods rather than protons – and, if all goes well, without the collisions.
As sketched out in a 57-page white paper, pods carrying 28 passengers each would leave the station at two-minute intervals. Travel speeds would average 540 miles an hour, peaking at 760 m.p.h. along part of the route.
Energy to power the system would come courtesy of solar panels atop the elevated tubes.
The system could be built for about $6 billion – or somewhat more if an operator wanted to turn the Hyperloop into a high-speed version of Amtrak's Auto Train, which allows passengers to take cars or motorcycles with them, Mr. Musk and his technical team from Tesla Motors and Space Exploration Technologies estimate.
And it would be expandable to achieve many of the same transportation aims that California's high-speed rail project is intended to reach.
---