Menu on Mars could include sushi, borscht
Six researchers have emerged from a small dome in Hawaii after spending the past four months preparing dishes that future astronauts might eat on Mars.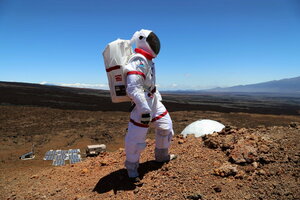 Angelo Vermeulen/University of Hawaii/AP
Four months ago, six men and women holed themselves up in a small, white dome on a remote Hawaiian lava field. The people didn't go out much, and when they did, it was in spacesuits. For the most part, they lived a restrained existence, circulating between the sleeping room and the exercise room – and the kitchen.
The kitchen: that was where all the excitement was happening. This was a NASA-funded experiment to assess what Earthlings might eat if they were to plant a colony on Mars. Out there on the Red Planet, where the mind has little on which to feed besides an expanse of red-tinged rock that meets the horizon, how would astronauts make meals that are not just nutritionally satisfying, but also emotionally so?
Now, the six researchers who stepped out of the kitchen and back into the world on Tuesday have some answers to that question.
Called the Hawaii Space Exploration Analog and Simulation – HI-SEAS – the project was designed to analyze the difference between pre-packaged astronaut food and "home" cooking: is the expense and time-commitment of cooking in space worth the emotional benefit of meals that the astronauts make themselves? The results are expected to help NASA determine where to spend its money in planning a future expedition to Mars.
The project began in December 2012, when the University of Hawaii and Cornell University put out a call for participants who would give up a third of an Earth calendar year – and all the good summer eating expected to come with it – in the name of science. Candidates had to have science degrees but did not need to be chefs. They did, however, "need to at least be eager to eat," said Kim Binsted, a University of Hawaii at Manoa professor who was involved in overseeing the research.
---