What happened to Shackleton's sunken ship?
A team of researchers found that the wood-eating mollusks that disintegrate doomed ships elsewhere in the world are seemingly absent in the Antarctic.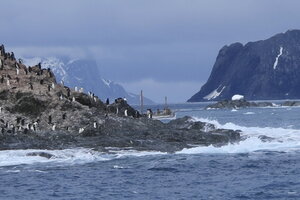 Jo Stewart/Shackleton Epic/AP
In 1914, Ernest Shackleton set sail from England aboard Endurance, bound for the southernmost of the world's oceans. The ship's name was a telling one, fitting the explorer's commitment to doing something big and dangerous after another adventurer, three years earlier, had reached the South Pole first, scooping his goal. After that, the only thing to be done was to go farther – literally, farther: Shackleton planned to make the South Pole a mere pit stop as he and his team crossed the entire continent on foot.
But in January of 1915, the Endurance stuck fast in the Weddell Sea's ice. And in September, succumbing to the squeeze of the ice, the ship went down. Shackleton and his crew would go on to make a months-long and 800-mile mission to South Georgia. They would endure; they would make it back to England.
But what about Endurance? Is the ship still in the Southern Ocean? And in what condition?
A team of scientists studying the geographical distribution of wood-eating worms and whale bone-eating worms has now offered a new clue as to what Shackleton's ship might look like after about 98 years on the ocean floor.
The researchers, whose findings are published in Proceedings of the Royal Society B, submerged a sample of wood and whale bones into waters off the Antarctic shelf, near Deception Island, for one year. When the samples were pulled up, the bones were packed with worms that represent two new species of Osedax worms, a category of whale bone-eating worms that are sometimes saddled with the alarming moniker "zombie worms" – or, perhaps even more worrying, just "bone-eating worms," without the "whale" qualifier.
---