New Antarctic ice core reveals secrets of climate change
A new Antarctic ice core that's more than 10,000 feet long suggests that West Antarctica may have begun melting more than 2,000 years earlier than believed. The secret? Sea ice.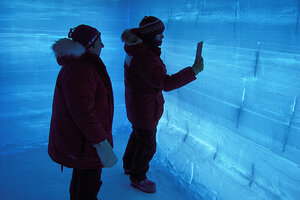 Kendrick Taylor / West Antarctic Ice Sheet Divide Ice Core
Most ice we see melts quickly, from ice cubes melting into a soda to icicles disappearing on a sunny winter day. But in Antarctica, ice can stick around for hundreds of thousands of years.
A newly revealed cylinder of ancient ice could change the way we think about climate change. A study published August 14 in the scientific journal Nature looked at 30,000 years of ice in more detail than has ever before been possible.
"We're trying to home in on how our climate changes, on the scale of years and decades rather than on the scale of thousands of years, which we've never been able to do in Antarctica before," says T.J. Fudge, the lead author on the paper. "I think that's going to tell us so much about how our climate system works, at the short time scales that are relevant to modern climate change."
Most of Antarctica's oldest ice is up in the eastern mountains, where cold air and steep terrain insulate the ice fields from the surrounding ocean and atmosphere. Climate researchers have focused on the 800,000-year climate record preserved there, discounting two previous ice cores taken in the west. One of the western cores was taken on a glacier, so its ice had moved away from the spot that the snow first fell; the other was taken at the edge of the Ross Ice Sheet, so its ice layers are vulnerable to ocean changes that can mask climate changes.
"So many good records came out of East Antarctica [that] the West Antarctic records have been forgotten a little bit," says Mr. Fudge, who is a graduate student in glaciology at the University of Washington.
But because West Antarctica is more influenced by storms and changes in sea ice, it's also much more sensitive to atmospheric changes – the very changes that make for a detailed and useful climate record.
---