Israel: Bible Assyrian seige account matches archaeological find
Israel Bible: Assyrian inscriptions and biblical accounts describe a revolt against the Assyrian empire in eighth century BC Judea. A newly discovered harbor fortification lends credence to these stories.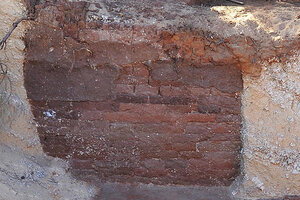 Philip Sapirstein
Archaeologists say they have discovered massive fortifications on the coast of Israel that may have protected an Assyrian artificial harbor during the Iron Age more than 2,700 years ago.
Researchers from Tel Aviv University (TAU) unearthed the crescent-shaped structure in the Israeli city of Ashdod, just south of Tel Aviv. The impressive fortifications date back to the eighth century B.C. At their core is a mud-brick wall that measures more than 12 feet (3.6 meters) wide and 15 feet (4.5 m) high. This wall is covered in layers of mud and sand extending outward hundreds of feet.
"The fortifications appear to protect an artificial harbor," TAU archaeologist Alexander Fantalkin said in a statement. "If so, this would be a discovery of international significance, the first known harbor of this kind in our corner of the Levant." [In Photos: Amazing Ruins of the Ancient World]
The researchers are not exactly sure who built the defensive structure, but they think it may be associated with a rebellion.
From ancient Assyrian inscriptions, researchers have gleaned that a rebel king of Ashdod named Yamani led a revolt against Sargon II, the king of the empire, around the time the fortifications were built. Sargon II's forces quickly put down the rebellion. Whereas some researchers have conjectured that the rebels put up the fortifications in anticipation of a fight, Fantalkin said the construction is too huge to have been completed under hasty circumstances.
---