Fukushima: Japan plans to corral radioactive water behind frozen dam
Japan plans to surround the stricken Fukushima nuclear plant with a massive underground wall of frozen soil, thereby preventing contaminated groundwater from flowing into the sea.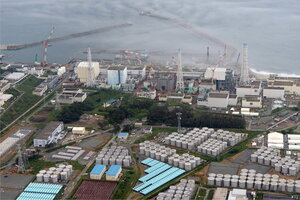 Kyodo News/AP/File
The Japanese government unveiled a plan Tuesday to keep radioactive water at the stricken Fukushima Daiichi nuclear plant from contaminating ground water that flows into the sea, in large part by surrounding the plant with an underground wall of frozen soil.
By some accounts, the $470 million plan's reliance on frozen soil represents a use of the technology on an unprecedented scale.
At the same time, some nuclear-energy analysts suggest, the ad-hoc effort to deal with contaminated water highlights a shortcoming in the industry more broadly.
Much attention had been focused on making sure plenty of water reaches a reactor to keep it cool during an accident, they say, but relatively little thought has been given to how to manage that contaminated water.
The plan for Fukushima was unveiled following the Tokyo Electric Power Company's admission on Aug. 20 that some 300 tons of radioactive water had leaked from storage tanks built to hold the water, which has been used to cool the plant's reactors and highly radioactive spent fuel since March 2011. This followed an admission a month earlier that contaminated water from the plant was leaking into the sea.
At the same time, some 400 tons of groundwater are said to be flowing into the plant's environs each day, where it seeps into the damaged buildings and mixes with contaminated water before making its way to the sea.
The sea-side power plant, located at Okuma on the east coast of Japan's largest island, Honshu, was devastated by a series of safety-system failures following a magnitude 9 earthquake offshore that sent a 45-foot tsunami sweeping across the nuclear plant as it moved inland. Follow-up investigations showed that the utility underestimated the tsunami hazard the plant faced, leading to design flaws that left it more vulnerable to tsunamis than it might otherwise have been.
---