Did soot cause climate change in the 19th century?
New research suggests that soot lofted into the air during the Industrial Revolution settled on Alpine glaciers, causing them to melt.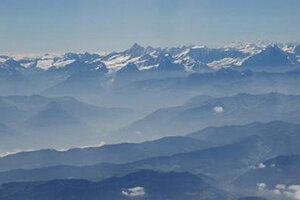 Peter Holy
Soot billowing across Western Europe during the Industrial Revolution may have caused the abrupt and unexpected retreat of European glaciers during a climatically cool period in the 19th century, new research suggests.
Mountain glaciers in the European Alps retreated by an average of nearly 0.6 miles (1 kilometer) between 1860 and 1930. This period falls at the end of Europe's so-called Little Ice Age, when temperatures dipped below average by about 1.8 degrees Fahrenheit (1 degree Celsius) across much of the continent.
Scientists have long struggled to identify a cause for this surprising retreat, but had been unable to find a suitable answer in the climate record. Now, researchers based at NASA's Jet Propulsion Laboratory in Pasadena, Calif., have honed in on the potential anthropogenic — or human-induced — causes of the retreat. The researchers focused on the potential impact of particulate carbon, or soot, on snow melt. Soot was a major form of pollution at the time of the melt, given the prevalence of coal burning in that era. [In Images: Tracking a Retreating Glacier]
When soot settles on snow in large enough quantities, it creates a dark, heat-absorbent film on the otherwise reflective white surface of the snow. This causes the surface to absorb significantly more heat than it otherwise would, which eventually thins the snow down to the glacial ice that sits below the surface layer, causing further retreat.
---