Study shows Egypt may have formed faster than previously thought
A new chronology of Egypt condenses the timeline for the formation of the Egyptian state.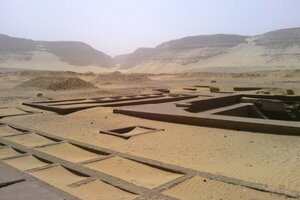 M. Dee
The most precise chronology of Early Egypt yet suggests the country formed much more quickly than previously thought.
The new finding reveals a robust timeline for the first eight kings and queens of Egypt, including, in order of succession Aha, Djer, Djet, Queen Merneith, Den, Anedjib, Semerkhet and Qa'a. The accession of King Aha to the throne is often thought to define the start of the Egyptian state, with the new study suggesting (with 68 percent probability) that he became king between 3111 B.C. and 3045 B.C.
Existing timelines of Egypt's transition from a nomadic community along the Nile River to a permanent state are mainly based on changes in pottery artifacts found at various locations around the country. However, such timelines are flawed due to the subjectivity required to distinguish one pottery style from another, and because styles might vary from site to site without signifying a change in time period. [See Photos of Egypt's Great Terrace of God]
To create a more reliable timeline, archaeologists based at the University of Oxford have developed the most comprehensive chronological analyses of Early Egypt artifacts yet based on a computer model of existing and newly measured radiocarbon dates. The analyses suggest the rise to statehood occurred between 200 and 300 years faster than previously thought, beginning between 3800 B.C. and 3700 B.C., rather than the past estimate of 4000 B.C. The findings, which also suggest the preceding Neolithic period lasted longer than thought, are detailed Sept. 4 in the Proceedings of the Royal Society A.
---