X Prize announces $2 million competition to measure ocean acidification
The Wendy Schmidt Ocean Health X Prize will award the developers of a cheap and effective pH sensor to measure ocean acidification levels.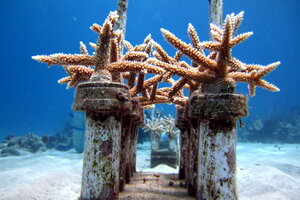 Kemit-Amon Lewis/The Nature Conservancy/AP
The prestigious X Prize Foundation has announced a new competition geared at tackling ocean acidification, which has in recent years taken a hard hit at some of the ocean's hardest-bodied animals.
The 22-month competition, slated to open for submissions at the beginning of 2014, carries a total purse prize of $2 million for the developers of a pH sensor capable of measuring the acidification of the world's oceans, a poorly understood process visible in deteriorating coral reefs and struggling oyster populations.
Called the Wendy Schmidt Ocean Health X Prize, the award is the latest multimillion dollar venture from the X Prize Foundation, the fund made famous as a catalyst for private spaceflight. In 2004, the foundation awarded $10 million to aerospace company Scaled Composites for the commercial spacecraft prototype that now underpins Virgin Galactic's SpaceShipTwo, which boomed closer to market-readiness last week with another supersonic test flight.
This latest prize is also the second collaborative effort between X Prize and philanthropist Wendy Schmidt, the wife of Eric Schmidt, Google's executive chairman. Ms. Schmidt had in 2011 previously joined with X Prize to fund the $1.3 million Wendy Schmidt Oil Cleanup X Challenge.
Ocean acidification begins, as most climate change stories do, with fossil fuel burning and burgeoning atmospheric CO2 levels. As CO2 levels rise, the ocean's levels of the gas also rise: the world's oceans absorb about a quarter of the atmosphere's CO2, an intake that reduces the seawater's pH, as well as the water's concentration of the calcium carbonate minerals that support the formation of marine life's skeletons and shells.
---