Arctic sea ice rebounds, but don't jump to 'global cooling' conclusions
Parts of the Arctic Ocean containing at least 15 percent sea ice have increased by 78 percent when compared with the extent last year at this time, according to data compiled by the National Snow and Ice Data Center.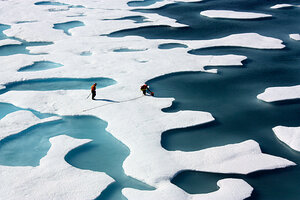 Kathryn Hansen/NASA/Reuters/File
After a record-breaking decline in the extent of summer sea ice on the Arctic Ocean last year, this year's minimum has returned to levels that more closely track the long-term rate of decline that scientists have measured for at least 34 years.
The striking one-year recovery in end-of-melt-season ice speaks more to the role that natural variability plays in any single year's number, Arctic sea-ice specialists say. It says little or nothing about any purported global cooling, as some skeptics of climate change have suggested.
Researchers note that the long-term decline in summer sea ice is strongly correlated with rising temperatures in the region, increases they attribute to global warming.
Scientists are keeping close tabs on Arctic sea ice because it plays an important role in the global climate in general and Northern Hemisphere climate in particular. During the summer, when the Arctic landscape is absorbing sunlight and re-radiating it as heat, Arctic sea ice acts as a counterweight. Its white surface reflects sunlight back into space, keeping the region cooler than it might otherwise be.
As summer sea ice declines, sunlight reaches ever-larger patches of ocean to be absorbed and converted to heat. This amplifies the warming that the region experiences. That warming in turn can alter atmospheric circulation patterns at lower latitudes.
Exactly how that happens is still an open question. The National Research Council is sponsoring a meeting on the topic at the University of Maryland in College Park Thursday and Friday. Scientists exploring the issue are slated to review the latest thinking on a warming Arctic's broader atmospheric reach and to try to outline a research agenda to fill gaps in that knowledge.
This year's recovery in summer sea ice at the top of the world is dramatic. On Sept. 16, 2012, parts of the Arctic Ocean containing at least 15 percent sea ice dropped to a record low of 1.32 million square miles.
---