More than 200,000 people apply for a one-way trip to Mars
Mars One, the foundation planning to put a human settlement on Mars in 2023, has received some 202,586 applications from pioneer hopefuls eager to live out the rest of their lives on the Red Planet.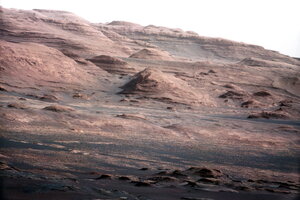 NASA/JPL-Caltech/MSSS/AP
One year ago, Mars One announced big plans for the Red Planet: a human settlement. The colonizing mission, planned for 2023, would be stylized like a reality TV show, but with the added drama that its participants, the would-be first humans to set foot on another planet, will never get to go home.
Despite that caveat, the foundation announced on Monday that it has received some 202,586 applications from hopefuls eager to live out the rest of their lives on another world – or, to be, exact, within 200 square meters of combined interior space and on a swath of the barren planet accessible only when clad in a protective suit.
"Its kind of a no-brainer to me, though I know that a lot of people don't feel that way," says Matt Ambler, a recent Yale graduate and an IT consultant in Washington DC who applied to be among the settlers.
"This is going to be a pretty important thing to do with my life," he says. "Talk about leaving your mark on humanity."
Mars One reported that the applicants came from 140 countries, with about a quarter coming from the United States, 10 percent from India, and 6 percent from China. Brazil, Great Britain, Canada, Russia, and Mexico, each put up about 4 percent of the applicants. All of the countries named in the applicant pool place above 100 in the UN's Human Development Index Ranking for 2012, with the exception of China (101) and India (136), and presumably offer a higher quality of life than can Mars.
---