Surprise microbes found in an Antarctic lake
Researchers have reported finding life in the most unlikely of places: under the Antarctic ice.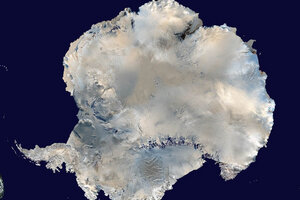 LiveScience/NASA
Researchers have found signs of life in mud pulled from the bottom of an ice-covered lake in Antarctica.
Studying microbes in such extreme and closed-off environments could help scientists understand how life may thrive in the harshest places on Earth and potentially other planets.
Scientists with the British Antarctic Survey and other institutions drilled through the ice sheet to dig up clean sediment samples from the bottom of Lake Hodgson, which is on the Antarctic Peninsula and 305 feet (93 meters) deep.
Today the lake has a thin covering of just 10 to 13 feet (3 to 4 m) of ice, but thousands of years ago, it was entombed under more than 1,600 feet (500 m) of ice. The sediments the scientists studied were deposited when the lake was sealed under the thick ice.
"It's the first time any subglacial lake sediment has been studied," study author David Pearce, who is now at the University of Northumbria, told LiveScience. And in that sediment sample, researchers found a time capsule of life, dating back nearly a hundred thousand years.
---