Ig Nobel award winners include dung beetle and beer goggle researchers
The Ig Nobel awards show was held at Harvard Thursday night to award this year's scientific projects that 'make people laugh, then make them think.'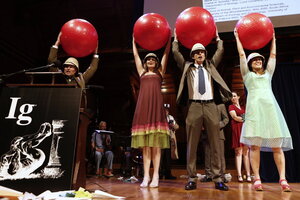 Winslow Townson/AP
The longer a cow has been sitting, the more likely it is to stand up. Also, the longer a cow has been standing, the more likely it is to sit down.
People think they are more attractive when they think they are intoxicated.
Lost dung beetles use the Milky Way to find their way home.
Is any of this information useful to you? If not – well, reconsider.
The Improbable Research Nobel Prize Award ceremony was held at Harvard Thursday night to award this year's scientific projects that "make people laugh, then make them think," as the organizers, the Annals of Improbable Research, put it.
The awards, held every year since 1991, are meant to "raise the question: How do you decide what's important and what's not, and what's real and what's not — in science and everywhere else?," write the organizers. And, each year, the awards do just that, lofting projects unlikely to win a real Nobel Prize into the scientific limelight in a zany show that asks the question, why is this science so uproarious?
This year's Psychology prize went to the authors of "'Beauty Is in the Eye of the Beer Holder': People Who Think They Are Drunk Also Think They Are Attractive." In that paper, the winning team noted in an experiment that French men who believe they are drunk also believe that they are more attractive. That suggested two things: one, that the "beer goggles" effect applies not just to the sudden object of an intoxicated person's desire, but to their self-perception, as well. Two, that you don't even have to be intoxicated to experience this effect; you just have to think you are.
Of course, "the perceived attractiveness lies in the eyes of the 'beer holder' and is not shared by anyone else," write the authors in the paper, published in the British Journal of Psychology.
---