Study links space weather to satellite glitches
A study of satellite failures between 1996 and 2012 found that glitches tended to coincide with solar activity.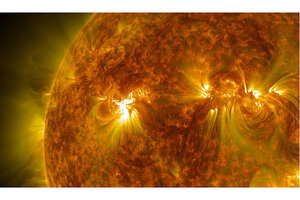 NASA/SDO
High-speed eruptions of charged particles from the sun may be to blame for recent failures of satellites that people rely on to watch TV and use the Internet, scientists say.
From 93 million miles (150 million kilometers) away, the sun spawns solar flares, coronal mass ejections and other space weather events, which can send highly energized particles racing toward Earth. Some solar storms have been known to disrupt communications systems and damage satellites.
To better understand these disturbances, a team of MIT researchers investigated the space weather conditions at the time of 26 failures in eight geostationary satellites operated by the London-based company Inmarsat. Geostationary satellites orbit at the same rate as the Earth's rotation, meaning they always hover above the same location on the planet. [The Sun's Wrath: Worst Solar Storms in History]
Most of the glitches, from 1996 to 2012, coincided with high-energy electron activity during declining phases of the solar cycle, the study found.
---