House cats and tigers share 95.6 percent of DNA, study reveals
An international team of scientists have sequenced the genomes of tigers, lions, and snow leopards, with the aim of preserving the iconic felines.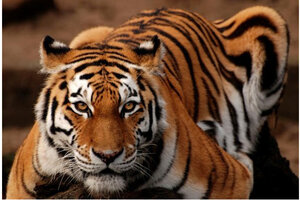 Laura Bertola
The biggest and perhaps most fearsome of the world's big cats, the tiger shares 95.6 percent of its DNA with humans' cute and furry companions, domestic cats.
That's one of the findings from the newly sequenced genomes of tigers, snow leopards and lions.
The new research showed that big cats have genetic mutations that enabled them to be carnivores. The team also identified mutations that allow snow leopards to thrive at high altitudes. [Rare Photos: Snow Leopard Babies in Dens]
The findings, detailed today (Sept. 17) in the journal Nature Communications, could help conservation efforts by preventing closely related captive animals from breeding, said Jong Bhak, a geneticist at the Personal Genomics Institute in South Korea.
Lions and tigers
Tigers are the biggest members of the cat family and are closely related to other big cats, such as snow leopards and lions. The predatory felines are critically endangered, and only 3,050 to 3,950 tigers are thought to remain in the wild. Without tiger conservation, most scientists believe the iconic orange cats will eventually go extinct.
To aid those efforts, Bhak and his colleagues sequenced the genome of a 9-year-old Amur tiger living in the Everland Zoo in South Korea. The team also acquired DNA from around the world and compared the Amur tiger genome with that of the white Bengal tiger, the African lion, the white African lion and the snow leopard.
---