Private Cygnus spacecraft on its way to deliver food and clothing to space station
NASA launched a 1,500-pound care package today through Cygnus, its newest unmanned commercial spacecraft that will deliver food and clothing to the International Space Station.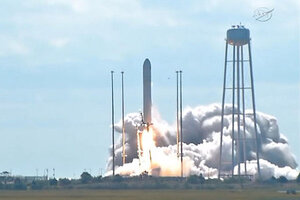 NASA TV
An untested commercial spacecraft blasted off on its first trek to the International Space Station today (Sept. 18), kicking off a major demonstration mission for its Virginia-based builders and NASA.
The unmanned Cygnus spacecraft and its Antares rocket soared into orbit with a tremendous roar at 10:58 a.m. EDT (1458 GMT) today from NASA's Wallops Flight Facility here — a huge success for the commercial spaceflight company Orbital Sciences Corp., which built both vehicles. The spacecraft is now chasing the space station and is due to arrive early Sunday (Sept. 22), when it will be captured by astronauts using the outpost's robotic arm.
"Antares is the largest rocket that we've ever developed, and this will be the first payload that we've ever developed to rendezvous directly and autonomously of this size," said Frank Culbertson, Orbital's executive vice president. "It's been a long road to get to this point." [See photos of the Cygnus spacecraft's first launch]
The launch was delayed one day due to a technical glitch during the rocket's trip to its seaside pad. But the Wednesday liftoff appeared to go off smoothly, and Cygnus and Antares climbed into a clear blue sky.
---