For a fallen robot, a 21-gun salute
New research suggests that soldiers treat their robots much like they do their fellow soldiers. The research raises new questions about how to ensure than robots are used safely and ethically in combat.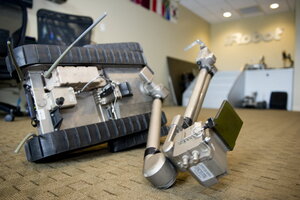 Ann Hermes/Christian Science Monitor
They have served the United States in combat, and they have been lost in combat. They have been awarded Purple Hearts and memorialized with 21-gun salutes. They have been eulogized, mourned, and missed.
They are, of course, the US military's robots.
American soldiers are becoming attached to their electronic comrades, according to a new report from a researcher at the University of Washington, – and that behavior reignites a question about how human attachment to robots might influence decisions on a battlefield.
In interviews with 23 Explosive Ordnance Disposal military personnel (one woman and 22 men), researcher Julie Carpenter found that soldiers reported unfettered willingness to send their robots into minefields – but also named their robots after wives and girlfriends and felt loss when those robots didn't make it back to base. While not generalizable to the entire military, given the small sample size, Dr. Carpenter says that the results suggest that more research is needed on how robots and humans mix. That's especially true as robots increasingly fill the US military's ranks, and as the military develops new, more anthropomorphic robot designs, she says.
Carpenter's research, which will be published on ProQuest as her PhD dissertation, is not the first scientific study about how soldiers feel about their robots.
---