SpaceX launches upgraded rocket in first satellite mission
The launch of the new-and-improved Falcon 9, which put a Canadian satellite into orbit, marked the company's first launch from the West Coast.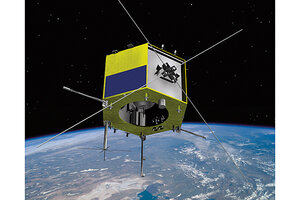 MacDonald, Dettwiler and Associates Ltd.
The private spaceflight company SpaceX launched the first of its new-and-improved Falcon 9 rockets from the California coast Sunday (Sept. 29), an ambitious test flight that also marked the company's first flight from the West Coast.
The unmanned next-generation Falcon 9 rocket blasted off from SpaceX's launch pad at Vandenberg Air Force Base in California at 12 p.m. EDT (1600 GMT) carrying a Canadian satellite to track space weather into orbit along with three small satellites.
"It was an amazing flight," SpaceX's Falcon 9 product manager John Insprucker said in a launch webcast. "There's tons of data coming back and it looks like it was a picture-perfect flight. Everything was looking good right down the middle of the track." [See launch photos for SpaceX's next-generation Falcon 9 rocket]
A large crowd of SpaceX employees was seen cheering at the company's headquarters and rocket factory in Hawthorne, Calif., as the upgraded Falcon 9 rocket soared toward orbit.
Reusable rocket test and firsts
Sunday's launch marked the sixth Falcon 9 rocket launch for SpaceX (short for Space Exploration Technologies), which was founded in 2002 by billionaire entrepreneur Elon Musk. But it was SpaceX's first flight to include major upgrades to the 22-story rocket, which is designed to launch the planned crew-carrying Dragon space capsule.
One of those upgrades included an innovative addition to the Falcon 9's first stage, which SpaceX designed to restart after separating from the second stage to see if it could perform maneuvers during re-entry as part of a reusability test. SpaceX officials said the plan called for two first-stage engine maneuvers before the booster splashed down in the Pacific Ocean, but success was not guaranteed.
---