Are gassy cattle a bigger problem than US government thought?
(Read article summary)
Cattle generate twice as much methane as the EPA supposed, according to a new report. The study's findings may also change assumptions about the safety of extracting natural gas, which consists primarily of methane.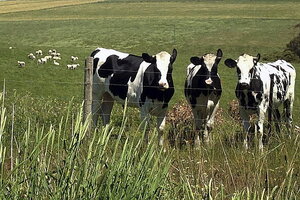 Sonali Paul/Reuters/File
The gassy rumblings of ruminating cattle, along with the hisses and sloshes as natural gas is extracted, refined, and transported to communities across the United States, may release 50 percent more methane into the atmosphere than the government had estimated, according to a report published Monday by Harvard University scientists. Because methane (CH4) is a potent greenhouse gas, the new findings could tilt the international debate on the safety of natural gas, which the White House has promoted as a "clean energy" source responsible for a domestic manufacturing boom.
The nearly 90 million cattle who spend their days in US feedlots are the country's largest source of methane from anthropogenic (human-caused) emissions, the Environmental Protection Agency estimates. But the new report finds that ruminant animals generate twice as much methane as the EPA supposed. In Texas, Oklahoma, and Kansas, anthropogenic methane emissions from all sources were 2.7 times greater than believed, making up 24 percent of the nation's emissions, found the study, which was published in the Proceedings of the National Academy of Sciences.
The report comes on the heels of a decision by the EPA to reduce its estimates – by 25 percent to 30 percent – of the atmospheric carbon released by the natural-gas industry.
---