Climate change somehow manages to mess things up in outer space
(Read article summary)
Climate change emissions are cooling the upper atmosphere, decreasing atmospheric density and causing space junk to remain in orbit longer.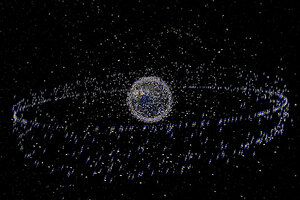 Newscom/File
The effects of climate change can be seen across the majority of the planet, but a new study reveals it is also affecting the space environment. New Scientist reports that increased carbon dioxide levels are cooling the upper atmosphere, which decreases the atmospheric density. This in turn affects how long defunct satellites, spent rocket boosters and other space debris stay in orbit, contributing to the space junk problem.

Atmospheric drag creates a braking effect on space debris, and eventually causes the various bits and pieces to drop out of orbit and burn up. Two researchers at the University of Southampton in the UK, Arrun Saunders and Hugh Lewis, studied the orbits of 30 satellites over the past 40 years, and recorded a gradual increase in the time they remain in orbit.
---