Pssst! Wanna bid for a space shuttle?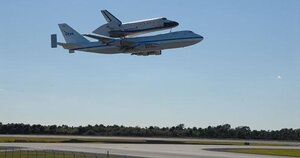 NASA/Tim Jacobs
The US space shuttles Discovery, Endeavour, and Atlantis are up for grabs.
The National Aeronautics and Space Administration put out an invitation to museums, education outfits, heck, even to NASA Visitors Centers to host a space shuttle, or, if space and money is tight, one of the shuttles' main engines.
Currently, the US space-shuttle program is slated to shut down by the end of next September. Stay tuned. That might change once President-elect Obama takes office.
Still, it's a rare opportunity to grab a piece of spaceflight history.
Before you start raising your hand, however, some caveats:
Estimated cost? $42 million to have a shuttle delivered to the nearest airport. Oh, and if your airport's runway is less than 8,000 feet long, forget it. An orbiter comes assembled, so an airport must be able to accommodate NASA's modified Boeing 747 ferry, fully loaded with the shuttle.
---