Ocean acidification, global warming, and the Great Barrier Reef
(Read article summary)
The decline in the rate of reef-building along the Great Barrier Reef is severe, sudden, and unprecedented in at least 400 years. Ocean acidification is a leading suspect.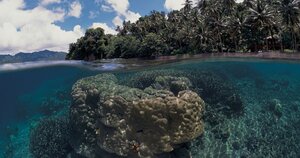 Image courtesy of Jurgen Freund of Freund Factory
Perhaps it's time to begin talking about global warming and acidifying oceans in the same breath, rather than as related-but-separate issues.
In mid-December, The Monitor ran a story on research showing that some areas of the world's oceans are acidifying faster than marine scientists had predicted even three years ago.  The culprit: the excess carbon dioxide that human industrial activity and deforestation are pumping into the atmosphere -- and that the oceans are absorbing. (That article came on the heels of another, more-general Monitor article on the topic a month earlier.)
Now comes word that corals along Australia's Great Barrier Reef have been growing at an increasingly slow pace since about 1990. The process coral colonies use to build their crusty superstructures is called calcification; it's fallen off by some 14 percent since '90, according to a study published in the journal Science on Jan. 2. (You need a subscription to get the full research paper.)
The decline is severe, sudden, and "is unprecedented in at least 400 years," according to Glenn De'ath, a scientist at the Australian Institute of Marine Science outside of Townsville, Australia, who led the research team.
---