Gravity's growing role in 'The Starry Night'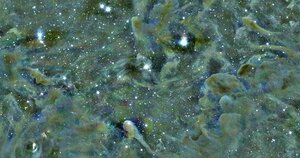 Jaime Pineda and Jonathan Foster, Harvard University
Talk about astronomy imitating art; Vincent van Gogh would have approved.
This 21st-century "live" version of 'The Starry Night' covers a patch of sky that has become a proving ground for a new way to study cloudy, molecule-rich nurseries where stars and planets are born.
In essence, astronomers have taken a page from modern medical imaging to develop 3D graphics of the cloud. This allows researchers to detect more structure in the cloud than they can see using 2D representations.
One intriguing result: Gravity appears to play a bigger role earlier in the star-forming process than some current models suggest, says Alyssa Goodman. She's an astronomer at the Harvard-Smithsonian Center for Astrophysics in Cambridge, Mass., and the leader of the research team.
Getting a better handle on star formation is important in reconstructing the bigger picture of how galaxies have grown and evolved over the past 13.7 billion years. Researchers are now adopting this approach to studying star-forming regions in other galaxies -- albeit with far less detail than they enjoy looking at clouds in our home galaxy, the Milky Way.
Dr. Goodman and her colleagues describe the technique and their results in the Jan. 1 issue of the journal Nature.
Their target: A molecular cloud dubbed L1448 in the constellation Perseus. It's about 100 light-years across. The patch they worked with is about 1 light-year across. What they see could prompt astrophysicists to ratchet back the number of stars they estimate these clouds can produce.
---