Chocolate at Chaco Canyon: a ceremonial beverage heads north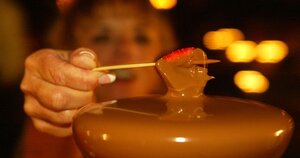 Newscom
Just in time for Valentine's Day comes word of the discovery of the first known use of cacao (a.k.a chocolate) north of what is now the Mexican border. And no, it didn't appear in Hershey, Pa.
Look father south and west, to Pueblo Bonito in northwestern New Mexico's Chaco Canyon. The so-called Chaco Culture of pueblo dwellers thrived in the region between 860 and 1128 A.D. And new evidence suggests that some of them took a shine to cacao, at least for ceremonial purposes.
Anthropologist Patricia Crown, from the University of New Mexico in Albuquerque, and a colleague from, yes, the Hershey Center for Health and Nutrition in Hershey, Pa., analyzed pot shards from the pueblo and found traces of theobromine, a compound that signals the presence of cacao. The results appear in this week's "early edition" of the Proceedings of the National Academy of Sciences.
---