Global warming's pitch: Go North, young bird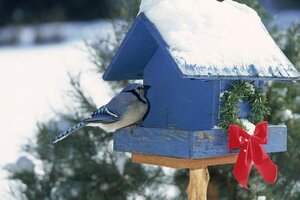 Newscom
Birds are doing it; plants are doing it. And it has nothing to do with Valentine's Day or spring flings. They are shifting their ranges in response to the effects of global warming at continental and local scales.
Fresh evidence comes from a pair of studies published Feb. 10. One comes from the National Audubon Society. The second comes from a team led by Theresa Crimmins, a scientist in the Office of Arid Lands Studies at the University of Arizona in Tucson.
Aside from the changes each study documents, the two efforts also highlight the increasingly important role citizen-scientists play in helping ecologists track shifts in plant and animal behavior and distribution. The next opportunity to take part comes up Feb. 13-15 with the Great Backyard Bird Count, run by Cornell University's Lab of Ornithology in Ithaca, N.Y.
For their work, Audubon Society scientists drew on data gathered during the past 40 years during the society's annual Christmas Bird Count project. They've documented [PDF] what they call a significant northward shift in early-winter quarters for 107 of 305 observed species. On average the species studied – including some that headed south – shifted their early-winter quarters by 35 miles.
---