A brilliant launch for NASA's planet-hunting pioneer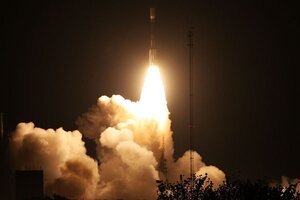 Newscom/Red Huber/Orlando Sentinel/MCT
NASA's planet-hunting Kepler mission is off to a spectacular start with an on-time, flawless night launch.
Kepler's lift-off from cape Canaveral in Florida lit the landscape at 10:49 p.m. eastern time Friday. The mission's objective is to hunt for Earth-like planets in Goldilocks orbits around their stars -- distances where conditions are not too hot, not to cold, but are just right for liquid water to be a stable feature of a planet (read more about the mission here).
For at least 3.5 years, Kepler's sensitive detector will measure the light from 100,000 stars simultaneously and virtually continuously. It will detect planets that are in just the right orientation to pass between Kepler and their host stars. Kepler's detector is designed to track the tiny dimming the starlight will display as the planet swings in front of it.
"Kepler now has the perfect place to watch more than 100,000 stars for signs of planets," said William Borucki, the mission's science principal investigator, in a post-launch statement. Dr. Borucki, with NASA's Ames Research Center at Moffett Field, Calif., has worked on the mission for 17 years. "Everyone is very excited as our dream becomes a reality. We are on the verge of learning if other Earths are ubiquitous in the galaxy."
The spacecraft will be gathering its data from an orbit around the sun similar to Earth's. But it will follow Earth around their mutual path. In fact, Kepler's orbit will take 371 days to complete, versus 365 days for Earth.
But first comes the shakedown period. Mission controllers will spend the next 60 days making sure that the spacecraft's systems are functioning properly.
---