Space tourism temporarily grounded?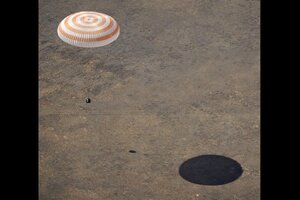 NASA/Bill Ingalls
Now that billionaire Charles Simonyi has safely returned from his 12-day "vacation" on the International Space Station, space tourism appears to be heading into hybernation.
The window appears to be closing on flights to the space station, as today's Monitor online story from Russia indicates. You can read about it here.
For all the angst, Space Adventures, Ltd., which organizes these orbital gigs, suggests that one more opportunity may open up later this year. During a press briefing last Friday, the outfit's president and CEO, Eric Anderson, said he'd learned from the Russians that a spot may become available on a Soyuz three-seater for Sept. 30's scheduled launch.
The question the Russians are kicking around now, he said, was whether to dedicate that seat to another "space participant," a.k.a tourist, or to fill it with one of its own professional astronauts.
But let's face it. Those opportunities are only available to the very, very, very well-heeled anyway. What can you do if you don't have spare millions to pay, and you're willing to settle for a near-astronaut experience?
---