Another tough summer for Arctic sea ice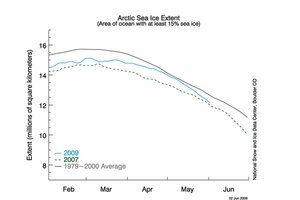 National Snow and Ice Data Center
The annual melt-back of Arctic Ocean sea ice is deepening -- driven by the arrival of warmer weather and the thinness of the winter ice that rebuilt after last summer's melt.
As of the latest readings posted at the National Snow and Ice Data Center on June 1, it looks for the moment like the melt-back's pace is flirting with the 2007 record.
How much farther the ice will retreat this year remains an open question. Scientists at the National Snow and Ice Data Center in Boulder, Colo., say much depends on seasonal weather patterns through summer's end.
May's decline was about average, the center notes. But given the thinness of the ice that emerged from winter and its growing predominance over hardier multi-year ice, NSIDC researchers say they expect 2009 to be another year when the amount of sea ice left at summer's end will fall short of the 1979-2000 average.
The decline of summer ice is driven by a mix of factors. Warmer waters move into the Arctic Ocean Basin from lower latitudes, for instance. And certain weather patterns, if they persist, can herd the broken ice out into the Atlantic like Rowdy Yates on the cattle trail.
But through it all, the underlying driver is widely seen as global warming, over whose long-term trend these other, more variable factors are superimposed.
So, if you're not into polar bears, who cares?
---